Here you will find my currently published books and links to my shorter writings, including fiction and nonfiction featured in print journals, on websites, and in anthologies.
The list of my currently published books is here.
Links to my other writings are here.
Books:
The Floating World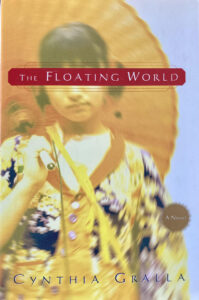 A fever dream set in Tokyo's night world, The Floating World tells the story of a young American dancer losing herself as she surrenders to the seductions of a foreign culture.
"Read this beautiful novel slowly, the way you would eat a ripe pear. The results are the same: a delightful nourishment that engages all the senses." (San Francisco Chronicle)
Purchase The Floating World at Amazon.
I was honored when a reader created an artisanal tea blend inspired by The Floating World.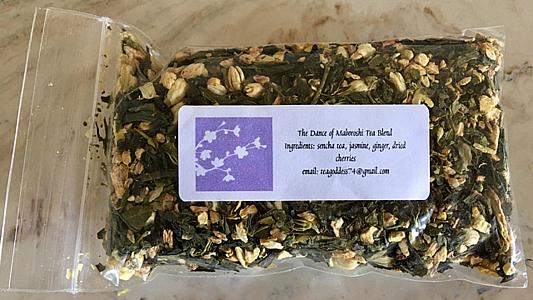 The Demimonde in Japanese Literature: Sexuality and the Literary Karyukai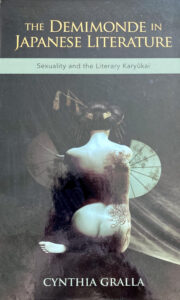 Japan's pleasure quarters, or karyukai, flourished for centuries, inspiring codes of etiquette, beauty standards, fashion and other cultural trends, and some of the national literature's canonical works. By the mid-twentieth century, the physical space of the pleasure quarters had been decimated, first by World War II and then by the outlawing of prostitution in 1956, but its dying world continues to be immortalized in some of Japan's most exciting books, films, and art works.
This academic monograph surveys a variety of texts from modern Japanese and world literature that celebrate the last gasps of the demimonde, along with avant-garde films, dance performances, and photographs. Including material previously not translated into English, The Demimonde in Japanese Literature explores some of the most notorious, erotic, and fiendishly subversive masterworks of the twentieth century.
Purchase The Demimonde in Japanese Literature at Amazon.
Adventures in Bodily Autonomy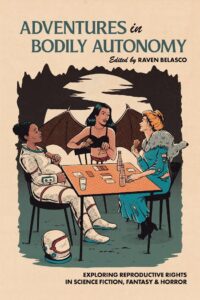 Edited by Raven Belasco, this short story anthology, produced to raise money and awareness for NARAL Pro-Choice America, contains my short story, "The Doctor and the Damsel," alongside over a dozen others. Mixing fairy tales, fantasy, speculative fiction, horror, and historical fiction, the anthology dares to imagine what bodily sovereignty and radical reproductive freedom might look like.
Academic Misconduct and Plagiarism: Case Studies from Universities around the World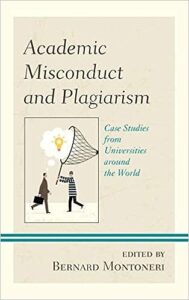 Lyrical it isn't, but my co-authored chapter in this book, "Student Plagiarism in Higher Education: A Typology and Remedial Framework for a Globalized Era," tackles the important challenge of (often accidental) plagiarism, particularly among international students.
Copyright © Cynthia Gralla, 2023
---
Other Writings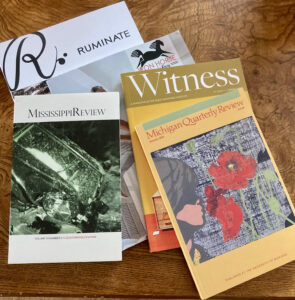 "Boxed Memories" was published in a print issue of Room in September 2023 (Vol. 46, No. 3: "Ghosts")
"Via Crucis, Via Lucis" was published online by Hippocampus Magazine in their January/February 2023 issue: https://hippocampusmagazine.com/2023/01/via-crucis-via-lucis-by-cynthia-gralla/
"Anatomy of a Closet" was published by Iron Horse Literary Review in their "Bliss"-themed print issue, Vol. 24, no. 2: https://www.ironhorsereview.com/shop
"The Tender Narration of Flowers" was published by Michigan Quarterly Review in their summer 2022 print issue (Vol. 61, No. 3)
"Double Bind" was published by SLICE in May 2022 in their Levity online issue:
https://slicemagazine.org/double-bind-how-borderline-personality-disorder-tied-me-in-knots-by-cynthia-gralla/
"Friendship: A Haiku" was published in print issue #61 of Ruminate Magazine and as a teaser for the issue on their website: https://www.ruminatemagazine.com/blogs/ruminate-magazine/friendship-a-haiku
"I'm Your iPhone, and Yes, I'm Judging You": https://theoffingmag.com/wit-tea/im-your-iphone-and-yes-im-judging-you/
"Second Acts in Creative Lives": https://www.thesunlightpress.com/2022/01/09/second-acts-in-creative-lives/
"A Woman in Trouble: My Life and Illnesses Filtered through Twin Peaks": https://witness.blackmountaininstitute.org/issues/spring-2021/. Note: this is a link to a print edition; it is not available online.
"Fiction and Memoirs Were Covering Health Way Before the Pandemic": https://theconversation.com/fiction-and-memoirs-were-covering-health-way-before-the-pandemic-150279
"The Man in White Underwear Thinks I'm Crazy": https://therealstory.org/2020/02/21/the-man-in-white-underwear-thinks-im-crazy-by-cynthia-gralla
"Olga Tokarczuk and Polish Literature's Home Army": https://www.asymptotejournal.com/blog/2019/11/04/olga-tokarczuk-and-polish-literatures-home-army/
"Literary Lists Are Records of Female Desire": https://electricliterature.com/literary-lists-are-records-of-female-desire/
"Ten TV Shows Guaranteed to Get You Elected President or Prime Minister": https://www.thesatirist.com/satires/ten-tv-shows-guaranteed-to-get-you-elected-president-or-prime-minister.html
"The Lost Voice": http://storysouth.com/stories/the-lost-voice-a-florida-fairy-tale/
"How Women Writers Are Reinventing Freud": https://electricliterature.com/how-women-writers-are-reinventing-freud-machado-yuknavitch-tokarczuk/
"The Harvest Festival": https://www.octoberhillmagazine.com/archives
"The New National Literature of Canada Is Being Written by Women": https://electricliterature.com/the-new-national-literature-of-canada-is-being-written-by-women/
"9 Fashionable Books That Make Clothes a Main Character": https://electricliterature.com/9-fashionable-books-that-make-clothes-a-main-character/
"Case Study of a Psychiatrist in the Freudian Style": https://www.thesatirist.com/satires/case-study-of-a-psychiatrist-in-the-freudian-style.html
"Kusama Yayoi: Pop Goes the Disease": https://bodyliterature.com/2019/03/22/cynthiagralla/
"Suicide Contagion and the Risks of Literature": https://medium.com/the-coil/suicide-contagion-and-the-risks-of-literature-cynthia-gralla-413f0e3fe483?source=friends_link&sk=21d1a546348e33bf333212f8b6439628
"Dream Girls Gotta Have Agency": https://electricliterature.com/dream-girls-just-wanna-have-agency-f7bd4a695243
"Reading Sickness": https://entropymag.org/reading-sickness/
"'Nang Fah Jam Laeng: Angels in Disguise": Short story published in The Mississippi Review fall 2005 print and online issues (Vol. 33, No 3). Named "One of the Ten Best Online Short Stories of 2005" by StorySouth/Million Writers Award
My 2001 Articles for Salon in Chinese: https://ca1lib.org/book/21334602/504f17
---
Copyright © Cynthia Gralla, 2023